Umpiring game  REQUEST FORM
Questions marked by * are required.
1.
Name: *




2.
Birth Year *




3.
Division




Junior
Midget
Bantam
Pee Wee
Mosquito
Tadpole

4.
Date Requested *




5.
Plate or Base or Either




6.
Time Requested:




7.
Email: *




8.
Cell or Home number




9.
Comment:




 
Click on link below to view Umpire Calendar in full screen 
https://calendar.google.com/calendar/embed?src=26dqrtvc96g5v5g6vp1st7ti5s%40group.calendar.google.com&ctz=America/Vancouver

Umpire Uniform Policy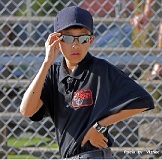 Umpires must wear a:                            
-Black or Navy Blue umpire shirt
-Grey slacks, no jeans or sweatpants
-Black hat (BCBUA logo or no logo at all)
-Black shoes with little white
Umpires Late Policy
 Umpires must be at HOME PLATE 15 minutes prior to game start
 time dressed and ready for pre-game meeting with coaches. 
If an umpire is running late they will call the umpire coordinator
The umpire coordinator will advise the home team coach
If an umpire does not show up a replacement will try to be found
If the plate umpire is absent the base umpire will have first choice in 
taking the plate position
The absent umpire will not receive any pay.
Umpires Pay Scale
| | | |
| --- | --- | --- |
| LEVEL | PLATE | BASE |
|   9U Tadpole | $10.00 | $10.00 |
| 11U Mosquito | $30.00 | $25.00 |
| 13U Pee Wee | $35.00 | $30.00 |
| 15U Bantam | $40.00 | $35.00 |
| | |   |
| 18U Midget | $50.00 | $45.00 |