LEAGUE BOUNDARIES FOR REGISTRATION

Boundaries For Your Player Is Based On Your Address____________
If you live outside of our known boundaries; 5U-11U Divisions have been declared open-
Means-If you live anywhere in Vancouver, you still can come play at VMBA- You will however need to do a player movement form. -Description of how to do this are inside your registration pages.
This just applies to those players in 05 to 11U divisions. Any questions please contact the president.
Open Areas In Vancouver:

05 years & under is our Blastball Division
07 years & under is our Rally Cap Division
09 years & under is our Tadpole Division
11U years & under is our Mosquito Division
25 U Junior Men's Division

Vancouver Minor Baseballs Boundaries for these Divisions;
13 years & under Pee Wee Division- Basic level is single A. The more advanced is AA. AAA is the most advanced
15 years & under Bantam Division- Basic level is single A. The more advanced is AA & AAA is the most advanced
18 years & under Midget Division- Basic level is AA
No AAA in 15U Division

North to South: Burrard Inlet to the North Arm of the Fraser River.
East: Up to and including the east side of Boundary Road.
West: From the North Arm of the Fraser River; Proceed north along Fraser Street to Broadway. Then West along Broadway to Main Street. Then North along Main Street to the Burrard Inlet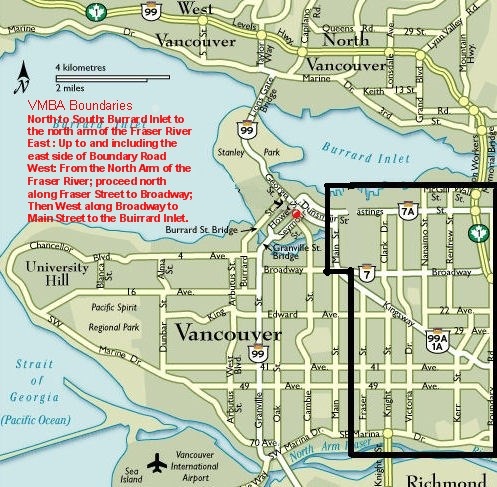 IF YOU ARE LOOKING TO TRYOUT FOR PEEWEE AA OR BANTAM AA AND YOU LIVE OUT OF OUR CATCHMENT PLEASE FOLLOW THE STEPS BELOW:
AA & AAA (13U & 15U) &/or Summer Evaluation Try-Out Releases
Email eligibility@bcminorbaseball.org BC (Minor) Baseball Rep to request

Evaluation Try-Out Release

as well as our President Mary McCann HERE.
In email list player's name, address, current Division and Association you are coming from.

In email also put Division & name of Association you wish your player to be evaluated (try-out) for.
BC Baseball will not look at any Spring release requests until after January 1st of current year.
DO NOT LEAVE YOUR REQUEST TO THE LAST MOMENT, AS IT TAKES TIME TO GET A RELEASE!!
Look to our Spring Evaluation page For Information on our Training & try-out Dates
Please confirm your child's age group when you register them with using their birth year.

We also offer in some Divisions;

25U Junior Men's ------ No Boundaries at all in this division
Click HERE to view boundaries of all BC Baseball Catchments.

**If you are an over-aged Little League player within our boundaries (or an open area) and can no longer play in Little League, you are eligible to play in our PeeWee or Bantam programs depending on your birth year.

**If you live in a "OPEN AREA" (no BC Minor Baseball catchment), you require a release to play for VMBA. Click here to see all BC Baseball catchments boundary maps. Open Area players may be subject to import restriction rules.

Release Instructions
Follow below steps if you would like to play for
Vancouver Minor Baseball Association but live in a different catchment
Before you start the steps, please check your catchment.
1. Please go to BC (Minor) Baseball website and download a Player Movement Request. Or use form links below (pdf or MS Word).
PDF Format

MS Word Format:

You can print out the form & fill it in.
Special Note: you will notice at the bottom of the page there is a place for the Presidents to fill in & sign it. (PLEASE DO NOT FILL OUT ANY PART OF THAT AREA).
2. Please scan your filled out form. Send when completed to your home association's President by email so he/she can fill in their part and sign it. They will then send it back to you when done, if they agree to the release. If they do not agree, you should get an email from them saying they do not agree to release your player. In that event, you can then make a request to Tina Baker-Cornett, BC Baseball's Equity Volunteer at eligibility@bcminorbaseball.org.
3. After the home association President signs the "Player Movement Request" (release) form, you must email it to the President of the association you wish to play for.
Please send releases to VMBA's President Mary McCann contact the president
If you are accepted to this new association, the new President will sign the player movement form and send it off to BC Baseball for their approval.
4. Once all of that is done, the President of the new association will contact you to let you know you have been approved and welcome you to the new association for that current year.
Special Note: You cannot participate in any programs until above steps are done.
****************************************************************************