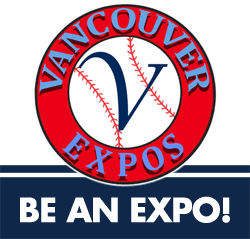 11U Mosquito
Birth years 2012 and 2013 (Ages 10 and 11 as of Dec 31)
The Mosquito program does not tier for the spring season. They play all their home games on our South Diamond and will occasionally play on our North Diamond. Other than participating in the Western Lower Mainland Interlock, this division does not travel unless it is for exhibitions or tournaments. Live pitching is introduced at this level. Pitch counts for pitchers will be according to BC Minor guidelines (PDF). These rules are in effect to protect the young pitchers from injury.
The base paths are 60 feet long and the distance from home plate to the pitching rubber is 46 feet. The rules allow for the fences to be set at a minimum of 180' in right field to a maximum of 200' overall. Lead offs are not permitted and balks will not be called. A regulation game is 6 innings unless it is called for a permitted reason. Umpires are introduced to the players at this level.
Summer Ball is offered in this division at three levels (A, AA, AAA). Vancouver Minor does not currently offer AAA. Fall Ball is also offered starting in late August and ending in early October.