18U MIDGET
Birth Years 2005, 2006 & 2007 (Ages 16, 17 & 18 as of December 31)
2015 Midget AA Team BC
2018 BC (Minor) Baseball Provincial AAA champions
The playing field for this division is a regulation baseball field with 90 foot base paths and 60 feet 6 inches distance from the rubber to home plate. The recommended dimensions for the outfield fence are 320 to 400 feet. With some minor exceptions for substitutions, teams at this level play according to the regular rules of baseball. A pitcher may pitch a maximum of seven innings plus one, in the event of a tie game, in a calendar day and fourteen innings in a calendar week. A regulation game is 7 innings and Rule 14 applies for early termination. Guidelines for play in the Midget Division are found in Rule 23.
Midget AA division (regular and new players) plays in a Lower Mainland Interlock (April thru June). Summer Ball by try-out is also offered.
Midget AAA division (by try-out for more advanced competitive players) plays from April thru August and is a wood bat league. Midget AAA is not subject to boundaries (catchment).
Home Field: Nanaimo Park, Southeast Diamond near Waverley Ave & Clarendon St. (behind Waverley Elementary School)

Please note: Parents / players are expected to help out with home pre-game field lining and post-game raking. Parent scorekeepers also needed.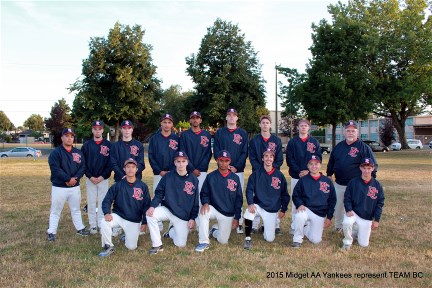 BE AN EXPO!!