Manager Tony Yee  at email: vancouverminorbaseball@hotmail.com
  Junior's Team   
2018 Junior's  BC (Minor) Baseball Tier 2 Provincial Champions 
 BE  AN  EXPO!!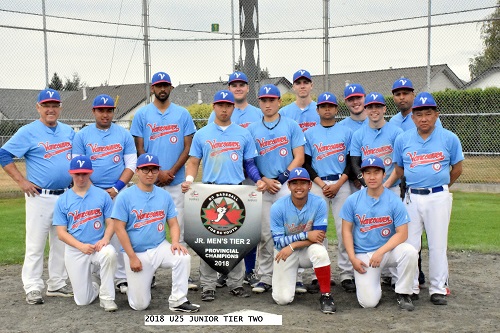 Contact  Manager Tony Yee  at email: vancouverminorbaseball@hotmail.com
At the Jr Men's level base paths are set at 90 feet, and pitchers throw from 60', 6". Junior 's is a wood bat league.
The Junior division is about giving the players a chance to play, so teams have the option of playing "9 man ball", of batting everyone in the line-up, or anything in between.  The games are 9 innings, with a minimum of 7 innings in the event of a mercy.
All teams travel to play other associations within the Lower Mainland. This is a single season league, with games starting mid April and running until end of July. Play-offs  in August. Finals in mid-August.