15U BANTAM PROGRAM

Birth Years 2008, 2009 (Ages 14 & 15 years old as of Dec 31)
2016 BC (Minor) Baseball Bantam AAA Provincial Silver Medalists
2018 BC (Minor) Baseball Bantam AAA Provincial Winners
2018 BC (Minor) Baseball Bantam AA Provincial Winners
In this division, the spring season is tiered into three levels: A, AA and AAA.
The 'AAA' program is designed for the more advanced player, the "AA' program is for the more seasoned player while the 'A' program is designed for the new or less advanced player. 'A' schedule (April thru June) consists of about 15 games (depending upon number of teams) against home teams and other associations.
Both AA and AAA levels combine Spring and Summer as one season April thru August. All home games are played on the lower big diamond at Nanaimo Park while we travel to the other association's parks for our away games. AA and AAA levels travel further than A level.
Lead offs are permitted and the balk rule is in play. Pitch counts for pitchers will be according to BC Minor guidelines. You can refer to them HERE
The base paths are set at 80 feet and the distance from home plate to the pitching rubber is set at 54 feet. The fences are set at a minimum of 245' in left and right field and 280' in centre field. A regulation game is 7 innings and may not be called earlier unless it is for a permitted reason.
Players must supply their own pants due to sizing issues and excessive wear and tear.
Vancouver Minor will offer Bantam 'A' Summer Ball depending on interest and the number of players.
Bantam Fall Ball will also be offered starting in late August and ending in early October. Please see our section on Summer and Fall Ball for more details.
About 15U AAA

15U "AAA" is a single season program competing in BC Baseball's top tier wood bat league.
This team will play other 15U AAA teams from the Lower Mainland, Vancouver Island, and the Okanagan. On several weekends you can expect double-headers both Saturday & Sunday. The season runs from early April through to the Provincial tournament in late July or early August. The Provincial champion in this division continues to play on into August.
A typical season schedule consists of around 40 league games and up to 25 tournament, exhibition, and playoff games.
Players and their families are expected to make a full and substantial commitment to the team if they are placed on the roster. There will likely be a game or practice on 4-5 days per week. Players must also be able and willing to commit to playing through to the end of the summer season.
15U AAA plays '9-man ball' for the entire season.
2023 Bantam 15U AAA Travel Team
Thank-you to all those who tried out for the team. Here is the 2023 Bantam 15U AAA Travel Team roster:
Adam Cole
Max Cowin
Cole Cu
Mikell gene De la cruz
Matthew Hesse
Lochlan Higgs
Dexter Jung
Cohen Kurucz
Jaxon Mayervich
Nicolas Siegenthaler
Tyler Tham
Langston Travers
Kae Lin Whiton
Graydon Yan
Leo Zeitlin
The coaches for the Bantam 15U AAA Travel Team for 2023 will be:
Jeffrey Kelly
Zachary Besler
Zach played Junior Varsity at UBC and Jeff played varsity at Wilfred Laurier.
Both are currently working on Masters degrees in Kinesiology at UBC. They have a long-term interest in coaching after completing their university studies.
2023 TRYOUT INFORMATION
Players must attend one of the following evaluations: Jan 7 from 7-9pm or Jan 8 from 9-11am held at the UBC Baseball Indoor Training Centre located at 3085 Wesbrook Mall.
During registration, you will be asked for a preference for the two times.
Players can expect to be at their assigned session for the entire 2 hours.

Upon arrival, players are asked to check in with Eric Gold, President of Vancouver Community Baseball.
Arrival/Departure
Entry to the program will be through the north entrance of the UBC Baseball Rose Indoor Training Centre.
Please arrive no earlier than 15 minutes before the scheduled start time of the program.
If you are early please wait outside, otherwise you may enter and follow the signs marked on the floor to the front desk.
Players are to wear baseball attire and running shoes or rubber cleats.
Players should bring their own equipment (this includes catcher's equipment, bats, helmets, gloves, water etc.).
Players will be assessed in the following areas:
Bullpens - (for players that would like to pitch) *players will not be required to throw if they don�?�¢??t feel their arm is ready.
Following the conclusion of these initial tryouts, a limited number of players will be invited back for final tryouts on the weekend of January 14/15. Roster will be announced on January 20 and pre-season training will commence on January 30.
Fees for the season have been set at $2,250 and this includes pre-season training, tournament fees and uniforms.
After the roster has been announced, there will be a parent zoom meeting to provide an overview of the upcoming season and an opportunity for Q&A.
Any player who is out of town or otherwise unable to attend their assigned tryout session this coming weekend should be in contact with Alistair Sale as soon as possible.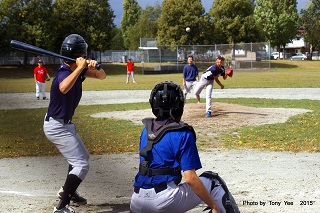 BE AN EXPO!!